My name is Kimberly Alkemade, and I was born in 1990. The direction of my career became clear quite late, at age 27. If you know me, you know that I'm a free spirit. I'm a very open person who loves doing new and 'crazy' things. It means I push my limits and actively seek-out the situations that excite me. I believe life begins on the other side of the comfort zone barrier.
When I was eight years old, my family and I got involved with a traumatic bus accident. We were heading towards Spain for a family vacation.
My mother died in the bus, and my father and two older brothers suffered light injuries. I was seated next to my mother on the top floor in the front row seat. The crash flung through the windshield. Somewhere during this flight, I lost my left leg.
When they found me, I was rushed by a trauma helicopter to the nearest hospital. The whole team medical professionals made a miracle happen by saving my life.
The trauma doctor in the helicopter changed our destination from the larger Lyon hospital to Valance about 50 kilometers closer to the accident. I lost so much blood that I wouldn't survive those extra minutes. My blood values were so low that I should've died in the helicopter.
When I arrived in Valance Hospital, my injuries became apparent. Besides the loss of my left lower leg, I broke my left thigh, and my skull was fractured. Not to mention all the wounds and cuts I had suffered. As I said, the medical professionals in France did miracle work.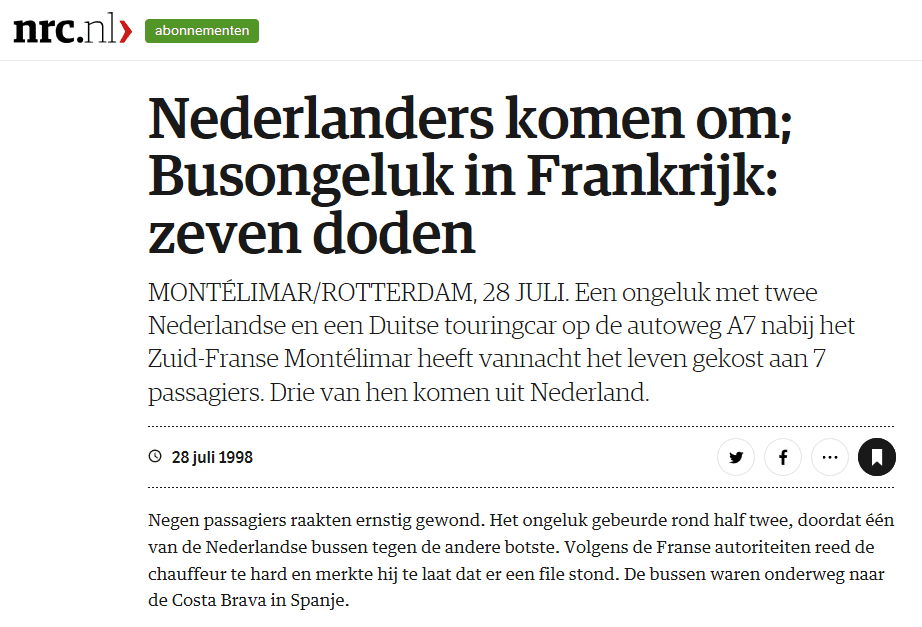 Then my family of 4 had to deal with the grief of losing our mother and partner. We had to start the process of grief and healing. I had to learn to walk again with a prosthetic leg, which took quite some trial and error to get right.

Even though my mother passed away way too early, love wasn't an issue in our family. My father did the absolute best job a father can do, the same for my two elder brothers. My aunt Jolanda stepped in for the female aspect of my upbringing.
HOW DID I BECOME A PARA ATHLETE?
It all started when I want to be more active in sports at age 27. I provided care to people with various disabilities and saw these people hardly moving their bodies, which created a lot of problems. In my own life, I was very active, did weight training, and tried various sports when growing up. But my prosthetic never really helped me to feel good at it.
When I decided I wanted to help others move more by starting a sports-oriented education, I knew I needed a new kind of leg. My current Prosthetist couldn't provide me what I wanted. They told me, 'Just be glad you can walk, don't try to run.' A very disappointing thing to hear.
So I contacted another prosthetist with more focus on sports and the primary supplier for the Dutch Paralympic Team. When I had my first conversation with him, my mindset changed. This prosthetist provided me with one of an old general-purpose sports blade after creating a new socket for my leg.
"I knew a bit about sports prosthetics,
but I thought these were only available for top athletes."
The old socket was like a slipper, soft and comfortable. But you can't run on slippers; you need well-fitting shoes to do that. As soon as that leg worked for me, I was told to go outside and play. Just try anything on this, and we'll see where we go from there." Within eight weeks, I ran my first 5K. I learned to play volleyball, and I got a lot better at snowboarding.
My movements became much smoother, and I became stronger, both mentally and physically. Another significant change was that I wouldn't hide my prosthetic leg anymore.
Before, I would want my prosthetic leg to look exactly like my regular leg, and I would always hide it under long pants and skirts. During the adjustment period to the new socket, I couldn't hide the prosthetic because it was a work in progress. But people were very supportive of this. People either didn't care or were supportive and interested.
Nowadays, I've integrated the prosthetic in who I am. It's a distinctive part of me, which was caused by suffering but brings me joy nowadays.
During the 5K run I mentioned earlier, I realized that endurance wasn't my cup of tea. I ran the 5K more like a long interval training, and I loved the fast bits! It was a small sign of what was to come.
Another question popped up, "How can I help my environment to experience the same?"
Everyone has their uncertainties, but how can I help another to overcome these?
I can still see myself hiding the 'bad' leg below clothing and in pictures. Now I'm proud of it, a proud woman with a cool looking leg.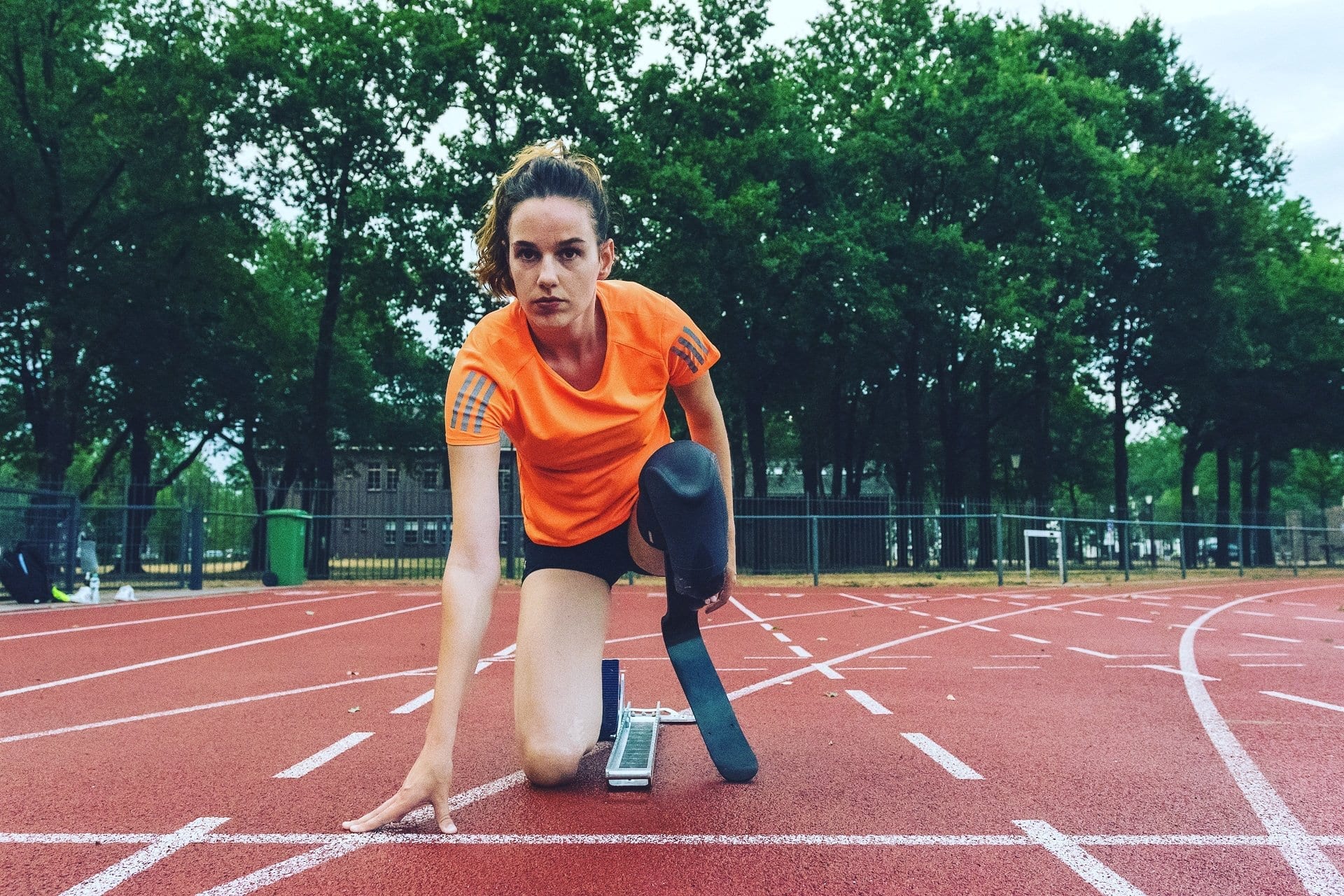 Mind you this whole transformation to place within ten months. Those previously mentioned questions lead me to a larger goal and set of tasks.
It confirmed that I needed to change my life. I worked as a care-provider for the disabled, which I loved doing, but felt to static. A lot of the people I cared for hardly moved, and every time they did, I always saw a smile on their face.
Then I knew I want to bring more movement into the world.
My goal is to help people to move, and I cannot effectively do that if I don't challenge myself first.
So on October 15th, 2017, I visited the Paralympic Talent Day in Amsterdam. There I wanted to try out for a few sports which interested me. My first choice was snowboarding, which I already loved to do. But running was something that I like to do too. So I tried out for the Athletics team.
So at the end of the session, head coach of the Dutch Paralympic Team, Arno Mul said, "I want Kimberly in my team, immediately". He even put it on paper for me, something I was weirdly happy about. A lot went through my mind.
What would this mean for me? Which sport would provide that huge challenge I was looking for. I researched it extensively. I spoke to everyone I could within snowboarding, within athletics. And after a few more trials In Athletics, the choice was made. I would become a sprinter.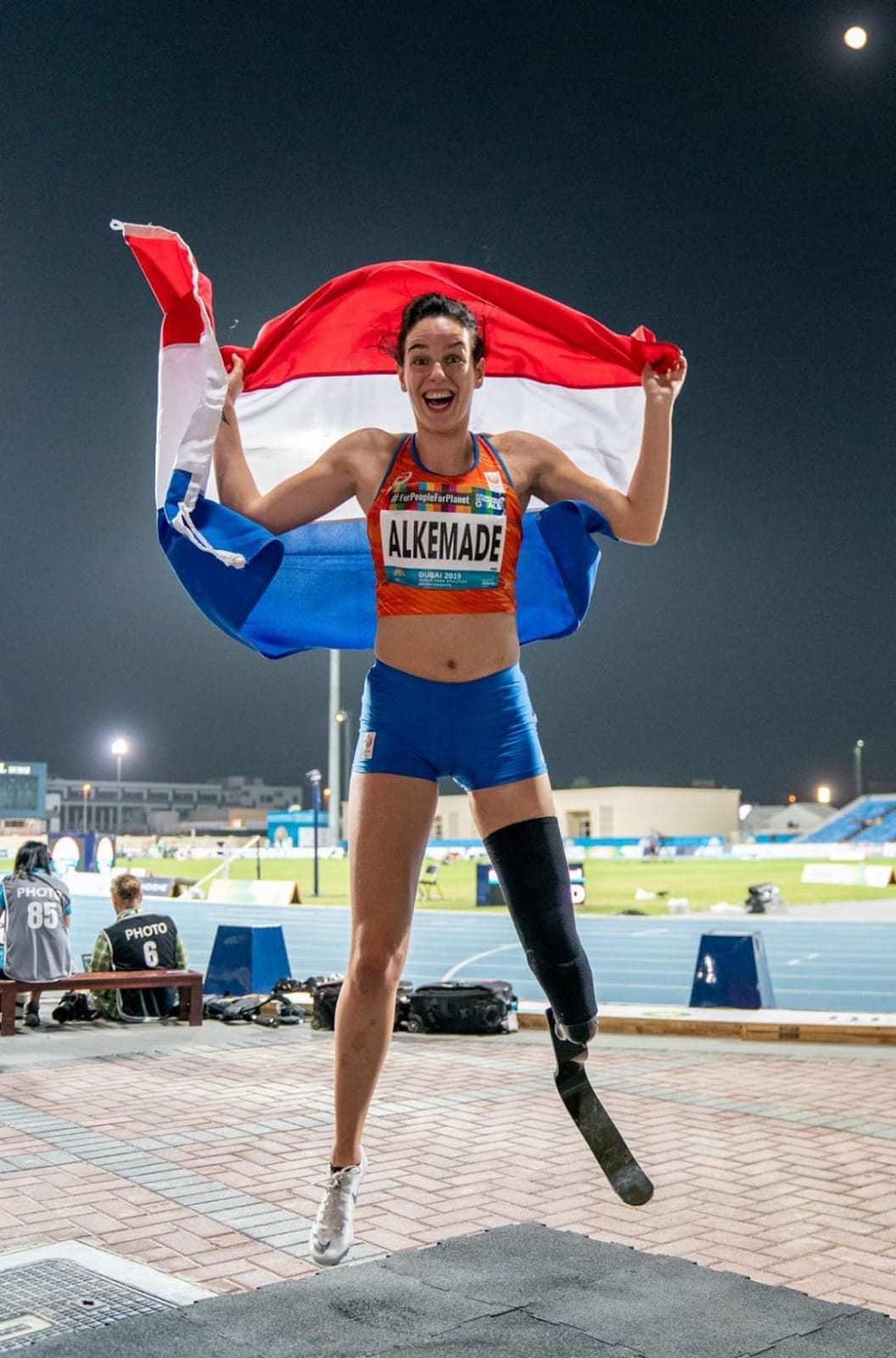 Foto door Helene Wiesenhaan
To learn more about running on a prosthetic, I started at Eindhoven Atletiek with Xander van Doorn, a trainer who specialized in training people with a prosthetic. He taught me the basics within a few weeks when I made the switch to my current club, Prins Hendrik (PH), in Vught. A few kilometers from my home.
During the period at PH, I regularly visited the Dutch National Olympic center at Papendal for check-ups by Arno Mul. During this period, my confidence solidified; this was what I live for.
It's time to fly!
Together with my partner, which supported me through this journey, I decided to quit my day job to focus on my newfound dream and long-term plan to help others move more and better by getting a fitness coach certification. The fitness coach certification was my plan B, but I needed to focus on plan A, the
Road to Tokyo
2020. To help me get there, I assembled a team around me because you can't achieve these goals. Your partner, family, coach, teammates, sponsors/partners, and environment all have a big part to play in the whole picture.
June 9th, 2018 – Dutch Champion on the 100-meter sprint

July 13th, 2018 – My first real sprinting blade

On November 5th, 2018 – I became a full-time athlete in the Dutch Paralympic Team and trained by Arno Mul.

May 24th, 2019 – Qualified for the Dubai 2019 World Championship Para-athletics on the 100- and 200-meter sprint.

November 9th, 2019 – I won silver on the 200-meter sprint

November 12th, 2019 – I won bronze on the 100-meter sprint

June 8th 2020, Started training at Prins Hendrik in Vught under supervision of Keith Antoine and Joep Janssen.
If you want to follow me and get updates on my experiences during races and training? Keep an eye on my socials and website.
"I have nothing to lose. I can only gain experience and thrive."